wackyforlackey-deactivated20140 asked: a little old, but for the 5th starter how about Brandon McCarthy
McCarthy is a good pitcher. I wouldn't be sad if the Nationals signed him at all. But I don't think it'll happen, I don't even think there's a chance of it happening.
McCarthy has never made 30 starts in a season, Rizzo is looking for a reliable veteran. His injury history is going to scare off a lot of teams, even though like this year he just had a freak accident. His shoulder problems just aren't going to work for the Nationals I don't think.
Alright so we know that the Nationals 2012 rotation will include Stephen Strasburg, Gio Gonzalez, Jordan Zimmermann, and Ross Detwiler. But who do you think the Nationals should sign to fill the last spot?
You've heard my thoughts on:
Are you hoping for somebody there? Or someone else? Let me know!
I'm taking a look at a few of the options for the fifth starter spot this week.
Former Cardinal Kyle Lohse is an odd one. After 10 years of being a thoroughly average starting pitcher, he has suddenly been very effective over the last two years. It's unusual to say the last for a pitcher to enjoy his only success starting at the age of 32, but it seems that Lohse has figured something out. Or has he?
Looking at the differences in the last two years from the rest of his career, he's made the sinker his primary pitch, and he's cut down the walks quite a bit. The groundball rate has remained the same, the K's have gone up a little. Except for an improvement in control, his stuff has remained mostly the same.
However, there are a couple of things have dropped quite a bit from his career norms. His BABIP, and his HR/9. Two things that most people agree a pitcher can only control to a certain degree. BABIP can be lowered with groundballs, popouts, limiting line drives. But Lohse gives up a ton of line drives, gets a modest amount of groundballs, and doesn't get many popouts. Do a search for him on Fangraphs, and you'll find that he has been one of the "luckiest" pitchers in baseball over the past two years. It's explained a bit more here:
This is also the second season in a row that Lohse has significantly outperformed his SIERA. Like Hellickson, there are red flags galore. How does one only allow a .261 BABIP, yet post a 24% line drive rate? That's crazy! His pop-up rate is also right about the league average, so that doesn't help explain things. He is inducing a higher than league average outside contact percentage, which like Hellickson has most likely helped reduce his BABIP. Also like Hellickson, Lohse's strikeout rate gives him little room for error, but at least he pairs his weak strikeout rate with impeccable control. Again, I need to hear some sort of statistically-backed explanation before believing Lohse suddenly has a consistent ability to significantly outperform his peripherals.
But hell, the guy is 34, he can't be good for much longer. Surely he could be had for a couple of years relatively cheap. Wrong. As a Boras client, you know you won't be getting a bargain. The general consensus seems to be the Lohse will land a contract in the neighborhood of 4 years/52 million.
Even if money were no object, I would say you're wasting it giving a 34 year old who's been lucky for four years.
The Nationals may look at Lohse though, even bid for his services. But I don't see them outbidding teams that are willing to go four years for Lohse, and I hope they don't.
Next, Anibal Sanchez. If you want to see a particular pitcher in this series, send me a message.
I'm taking a look at a few of the options for the fifth starter spot this week.

I've never really paid much attention to Anibal Sanchez. But looking it over now, this is one consistent pitcher. Take a look at his stats over the last three years.
ERA      G  GS    IP ERA+  WHIP H/9 HR/9 BB/9 SO/9 SO/BB
3.55    32  32 195.0  117 1.344 8.9  0.5  3.2  7.2  2.24
3.67    32  32 196.1  106 1.278 8.6  0.9  2.9  9.3  3.16
3.86    31  31 195.2  105 1.267 9.2  0.9  2.2  7.7  3.48
All that comes to mind for me is watching him dominate the Nats (1.97 ERA in 19 starts). But the stats are remarkably consistent, if he had stayed in the NL he might have been even closer to his averages this year.
So it would appear that the team that signs Sanchez will most probably get a mid 3's ERA, 4 WAR, and about 200 innings. Five guys like that would make a hell of a rotation. If he were on the Nationals staff he would probably the fourth best starter. Of course not pitching against the Nats a few times a year might make his numbers dip just a bit.
But should the Nationals go for him?
At 29, he's got plenty left in the tank. He'll probably maintain his current level for at least 3 more years. So giving him the projected four or five year deal that he'll require doesn't seem like such a bad idea. The projections seem like he'll get somewhere between 4/52 and 5/77 (CJ Wilson). Personally, it seems like a bit much, although I can't really think of a much safer bet for a few years.
For the Nationals situation, with guys like Karns, Meyer in the pipe, and upcoming extensions for Jordan Zimmermann, possibly Ross Detwiler, as well as Ian Desmond, I think the money could be spent in better places. It's not like there's a salary cap but I think committing five years to a good-not-great starting pitcher when you have the guys that the Nats do seems a bit silly. If he could be had for three years, absolutely. But I don't see that happening at all. Tim Dierks of MLBTR puts it this way:
The Tigers have interest in bringing Sanchez back, though the Blue Jays, Yankees, Twins, Angels, Rangers, Dodgers, and Padres are among the teams that may make bids if he hits the open market.
There will be fierce competition for his services. Rizzo and co. will probably do their due dillegence, but I don't see them signing Anibal Sanchez. Do you think they should?
Next, Zack Greinke. If you want to see a particular pitcher in this series, send me a message.
There are 5 or 6 real intriguing starting pitchers on the market.
More postseason awards were announced today and the Nats were all over them!
Previously announced Gold Glover Adam LaRoche!

Today the Silver Sluggers!
Adam LaRoche!


Ian Desmond!


Stephen Strasburg!

The Nationals brought home the most Silver Slugger awards of any team in the MLB.
Gio Gonzalez said it best:
Congrats too 3 sliver sluggers @IanDesmond20, Adam LaRoche and @stras37,couldn't be more proud of my boys!
Us neither. Lets hope Gio brings home the Cy Young.
I'm taking a look at a few of the options for the fifth starter spot this week.

Zack Greinke has enormous talent.
No not just to taking derpy pictures.
Perhaps the greatest of them is his ability to strike out batters. Over the last five years, Greinke has struck out 1007 batters over 1035 innings. That's 8.75 K/9, an incredible number. It's an indicator of something very obvious when you watch him. Greinke has elite stuff. The big fastball, the sinker, the slider, the curve, the change. It's all there for him.Raw stuff alone won't make you one of the best pitchers in baseball though.Greinke keeps the walks down. Over the same period he's averaged just over 2 BB/9, which for anyone, is stellar.
Before we go any further, lets talk about the fact that in the last three years, the best ERA he's posted is a 3.48, and that his ERA is consistently higher than his FIP. If you take away Zack Greinke's two worst starts last year (where he allowed 15 runs in 6 innings). His ERA is now 2.93. Same method for 2011: 3.25, 3 bad starts in 2010: 3.44. Obviously you could do this for a lot of pitchers and have the same effect. But if I'm looking for a pitcher, I'll take 2 or 3 starts a year where I have to pull him early and the rest of the time he's posting an ERA around 3.
Most metrics will tell you that Greinke is an elite pitcher and they are correct. In terms of WAR, he's behind only Cliff Lee, Roy Halladay, Justin Verlander and CC Sabathia over the last five years. Over the same period his FIP is 3.05. xFIP is 3.26, better than Sabathia and Verlander.
There really isn't much debate, he's elite. He'll be pitching his age-29 season next year. So there are still quite a few dominant years left in him. Any team that signs him will be adding an ace to their team for the next 6 years at least.
But therein lies the problem for the fans that want their teams to sign Zack Greinke. The list of teams that are interested in his services at this early point in the offseason is already long. The competition for his services is going to be fierce, and some team will probably give him the biggest contract ever given to a right handed pitcher.
So for a team like the Nationals, full of young and cheap talent (for now), the question is would they be willing to drop the kind of cash it will take to land Greinke? I don't think so. It's not even really a matter of cheapness, it's just the fact that the money that any team signing him could be given to two or three young pitchers/players who will over the life of the deal give more to the team than Greinke will. In the Nationals case, over the next few years, extending Jordan Zimmermann, Ian Desmond, maybe Ross Detwiler, Stephen Strasburg(yeah right), who knows who else?
I'm not saying it wouldn't be a great idea to sign Greinke. Mike Rizzo has shown his interest on multiple occasions. I believe the package he put together included Jordan Zimmermann, Drew Storen and Danny Espinosa a couple years back. Don't think that just because Greinke shut down the Nationals first offer for him it means he won't consider coming now.
"The Nationals are trying to build a winner," Greinke said, "and if I'm going to go there, I didn't really want them to trade away the players they were going to build around. That hurts their team."

When it was suggested to Greinke that perhaps his path will intersect with that of the Nationals another time — Greinke's current contract expires after the 2012 season, roughly the time the Nationals expect to become legitimate contenders — he did not shoot down the notion.

"Maybe it works out better that the deal [with Washington] didn't go through," Greinke said. "In two years I might be a free agent, and then they get to keep the players [who would have been] in the trade. And some of those guys could end up being key players for them."
Words a year and a half ago, and now Jordan Zimmermann, Drew Storen, and Danny Espinosa have become big players. It's not crazy to think that Greinke may see Washington as a very attractive destination.
I expect Rizzo to make a play for Greinke but I am not sure he'll have the firepower it will take to acquire him. It seems he may try though, when asked about Greinke Rizzo, who never talks about specific free agents said: "What's not to like?"
Next, Anibal Sanchez. If you want to see a particular pitcher in this series, send me a message.
Anonymous asked: I'd love to see your take on Grienke and/or Bauer. Great blog!
Greinke will be up in a couple hours. I'll definitely be writing about Bauer soon. Thanks for reading!
I'm taking a look at a few of the options for the fifth starter spot this week.

Dan Haren is in my opinion the most interesting option for the Nationals open pitching spot this off season.
Let's take a partially hypothetical situation here. Let's say Dan Haren broke a leg during Spring Training and didn't pitch at all last season, his option didn't get picked up and he were a free agent. What kind of buzz would there be? We'd be looking at a pitcher who prior to this hypothetical injury hadn't posted a season below 4 Wins Above Replacement since 2004. A pitcher who had pitched 200+ innings every year. A workhorse in other words. That kind of guy, at 32 would probably command a pretty good sum in free agency, despite coming off a season where he didn't pitch.
Instead, we have the real Dan Haren, who pitched through back pain, suffered a velocity drop and overall wasn't very effective for the Halos this year. He had some home run issues, the stuff wasn't as good. But even when he was healthy toward the end of the year, the velocity never really came back. The Angels said it was mechanical, which makes sense. Your back hurts, you change your mechanics to compensate, you get better and the mechanics are different.
So maybe if the Nationals were to sign Haren they could work on his mechanics and get him back to his workhorse form. But now there's a real risk in signing him. This Fangraphs post explains it really well. But the basics are this:
No MLB team wanted Haren for 1 year/12 million dollars. The Angels tried to trade him, but nobody took him. This makes him a hot commodity in free agency, but it also hints that there could be something more wrong with Haren than we think.

"The simplest explanation for this effect is information asymmetry, especially as it concerns a pitcher's health. While everyone knows when a pitcher lands on the DL or has surgery, a team is in a unique position to know whether he had to skip throwing sessions between starts because of soreness, or if the team made some adjustments to his delivery to try and compensate for the fact that he was dealing with some lingering pain. Or whether the publicly disclosed injury was even the actual ailment to begin with. Those things might not show up on an MRI or a pre-contract physical, but they could very well be predictive of future injury issues, or a sign of trouble that could lead to a faster decline in velocity or movement.

For instance, we know that Dan Haren was placed on the DL with "lower back stiffness" in July, but only the Angels know what Haren was actually telling them at that point. It wouldn't be the first time a team said that a pitcher's back hurt when it was actually his elbow that was barking, and the motivation to keep any report of arm problems out of the media in your free agent walk year is pretty high. Of course, there's no evidence that Haren's arm hurt, and we shouldn't just assume that the Angels were lying to everyone, but they're the only team in a position to really know what was going on with him physically last summer."

It's also possible that everyone knew they weren't going to pick up his option so nobody wanted to trade for him.
The main point is that we just don't know what the deal is.
I'm partial to ignoring this argument. I'd like to think that he just pitched through injury and that if he were on to pitch for the Nationals next year we could expect him to come back and pitch 200 innings and put up 4 WAR. If the only risk in signing Haren were that there may be some lingering injury I think I'd be willing to trust that Rizzo and co. would examine him and make sure before signing. But there are other things to consider.
His K/9 have been steadily declining over the last three years. That includes this injury year, but even in the 2 years previous the rate has been falling. Now it's only fallen from the mid-high 8's to the mid 7's. But paired with the velocity drop, it may be cause for concern of a decline. Take a look at his fastball velocity over the past few years.
I'm taking a look at a few of the options for the fifth starter spot this week.

Hiroki Kuroda will be 38 years old in February. But that won't deter a lot of teams from trying to sign him if the Yankees don't get an agreement in place quickly. His stats over the last three years have been fantastic.
ERA      G  GS    IP ERA+  WHIP H/9 HR/9 BB/9 SO/9 SO/BB
3.39    31  31 196.1  114 1.161 8.3  0.7  2.2  7.3  3.31
3.07    32  32 202.0  120 1.213 8.7  1.1  2.2  7.2  3.29
3.32    33  33 219.2  126 1.165 8.4  1.0  2.1  6.8  3.27
He's showing no signs of slowing down. He's actually improved the last three years.
His velocity hasn't declined, it's even a little higher on some pitches. In short, if he chooses to keep pitching it's a reasonable assumption that he'll continue his high level of performance.
Some teams would be happy to give him a multi-year deal, I would imagine. But he's even more desirable because he's willing to accept a one-year deal. His wish to pitch in Japan again someday could influence that decision.
if he's worried about the money or doesn't particularly like New York, he could turn down the qualifying offer of 13.3 Million the Yankees gave him and seek more from the Yankees or elsewhere. There's no doubt the Yankees will want him back. But if some team were to offer him 18 Million for a year, he may bolt. 
This is where the Nationals could come in. If the organization believes that Alex Meyer, Nathan Karns or some other player could step into the rotation in a year or two. Kuroda would be a wonderful option. He could provide a high level of performance without a long commitment, and when someone was ready to step in he could go back to Japan or pitch somewhere else.
I would love to see the Nationals sign Kuroda to a one or two year deal, but I would imagine if he doesn't accept the Yankees qualifying offer the Dodgers, Red Sox, or the Yankees will give him as much money as he wants. I highly doubt we'll see Kuroda in DC, but it's definitely something to think about.
Next, Dan Haren. If you want to see a particular pitcher in this series, send me a message.
I'm taking a look at a few of the options for the fifth starter spot this week.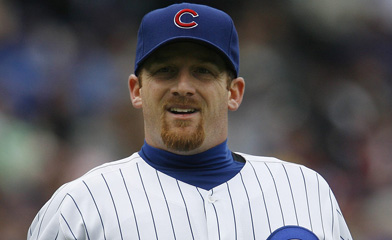 2012 was a tale of two seasons for Ryan Dempster. Prior to being traded to the Rangers, Dempster was leading the league in ERA at 2.25, he also had an very low BABIP of .242. He came back to earth pretty hard with the Rangers, giving up more home runs and his BABIP flew up to .330.
Now that he's a free agent, there's question as to what can be expected from him going forward. He'll be 36 next May.
Around the All-Star break I was all for trading for him. But now, I don't really think it would be a great idea to sign him. Some team will probably give him a two year deal to be a veteran leader of their rotation. I just don't think he's got what it takes to be any better than a John Lannan or Zach Duke would be.
Fangraphs contract crowd sourcing wants to give him 3 years/36 million. I would be reluctant to go more than 2/20 and really I'd only want him for one year. Of all the options that are available I don't think Dempster is the answer.
Next, Hiroki Kuroda. If you want to see a particular pitcher in this series, send me a message.